Requirements
Photographs entered for club competitions must meet the following technical standard:
Maximum vertical resolution of 1,200 pixels
Maximum horizontal resolution of 1,600 pixels
Be in the the JPEG format
Be in the sRGB colour space
Filename standard
The file containing your photograph should be named in the following way:
presentation order_photograph title_membership number.jpg
where
Presentation order is a single digit number with values between 1 and 4 indicating the order in which your photographs should be shown. The file marked with 1 shown first and 4 last.
NOTE: If there are more submissions to a competition than can be judged in a single night the number of photographs used will be reduced by removing the photographs marked with the highest presentation order i.e. 4
Photograph title is the title of you photograph using any character valid in filenames except underscores (_).
Membership number is your club membership number expressed as a three digit number. If you membership number has less that three digits prepend your membership number with leading zeros to make it up-to three digits
For example, a member with membership number 87 wanting to display a photograph "Sat on the mat?" second in their submissions would create a file with name:
2_Sat on the mat?_087.jpg
Some examples of incorrect filenames are:
02

_Sat on the mat?_087.jpg
2_Sat on the mat?_

87

.jpg
2_Sat

_

on

_

the

_

mat?_087.jpg
2

-

Sat on the mat?

-

087.jpg
2_Sat on the mat?_087.

JPG


2_Sat on the mat?_087.

jpeg
Recommendations
In additional to requirements outlined above it is recommended that the following are also adopted.
Aspect ratio: Use an aspect ratio that suits your image rather than the 3 by 4 ratio of the maximum resolutions.
Border: Put a thin (normally white) 2 pixel border around the photograph to frame it.
Protect your original photograph: Make a copy of your image file before you start work altering it so you don't overwrite the original and ruin it.
Create the best quality photograph: Complete any editing work on the full-size copy until you are happy with it.
Competition file: Create an additional file that meets the competition technical standard from your high quality working file. In this way you will have a high resolution master file and a low resolution file created specifically for competition.
Export settings
Most photographic manipulation software will allow you to create/output an additional copy of your working image in the required competition standard. Typically this is referred to as exporting your photograph.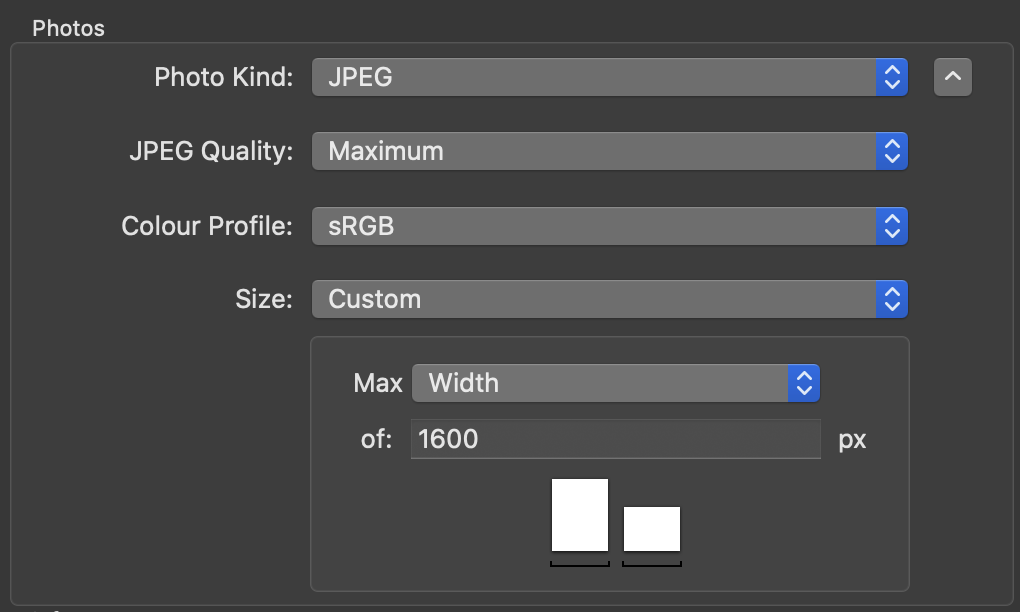 Submitting your photographs
Once you have created your competition entries they should be sent via e-mail to cardiff.compsec@gmail.com. To be included in competition they must arrive with the competition secretary no later than 2 weeks prior to the contest. You should receive a receipt for your photographs from the competition secretary within 24hrs of sending them. If you do not receive a receipt please follow up.
Usage restrictions
Photographers retain the copyright for all work submitted for competition. Unless otherwise stated upon submission the club is granted licence to use the photographs as set out in the membership application form. If you wish to place stricter controls over your photographs these must be included at the time of submission