Rhiwbina camera club hosted our annual battle on the 28th April 2023. As visitors we were made to feel very welcome and treated to some interesting vegan snacks with our half time cuppa. It was great to touch base with the Rhiwbina members.
The competition was ably judged by Martyn Pinches AFIAP AWPF who provided excellent feedback & critique. After the scores had been counted it was a Cardiff win. The final scores were…
Rhiwbina (h) vs Cardiff battle 2023 final scores. Maximum score 400. Last updated 4th May 2023
We were represented by photographs made by Dave Barton, Chris, Trevor, Andre, Dean, Dave Russell, Sadie, Richard & Niall. Well done to Andre (for "The Kingfisher and the newt") and Trevor (for "Twilight fishing") whose photographs both achieved a maximum individual score.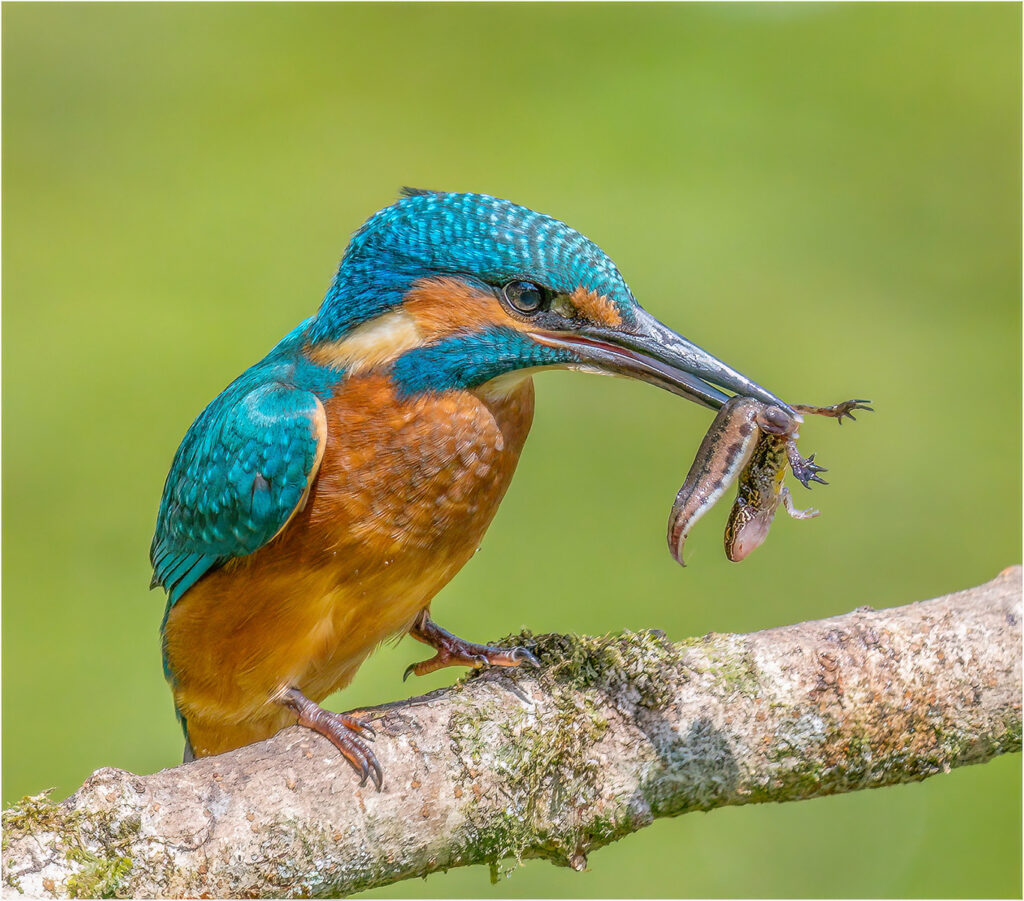 "The Kingfisher and the Newt" by Andre Van de Sande
The Full scores are set out below:
| Print title | Club | Score |
| --- | --- | --- |
| Amritsar golden temple chapati mixer | Cardiff | 17 |
| Fishing Boat | Rhiwbina | 14 |
| The Wreckage | Cardiff | 15 |
| Old Harbour, St Goustan | Rhiwbina | 19 |
| Coot Chick | Cardiff | 18 |
| Winter Sunshine, Cardiff Bay | Rhiwbina | 17 |
| Male broad-bodied chaser | Cardiff | 18 |
| King of the Mound | Rhiwbina | 15 |
| Two on One | Cardiff | 15 |
| The Wayfarer | Rhiwbina | 14 |
| Meerkat | Cardiff | 18 |
| George Pooley | Rhiwbina | 16 |
| Breaking through after the storm | Cardiff | 17 |
| Gloomy Lane | Rhiwbina | 16 |
| Twilight fishing | Cardiff | 20 |
| St Nicholas, Nantes | Rhiwbina | 14 |
| North American P51 Mustang | Cardiff | 16 |
| Beauty and the Beast | Rhiwbina | 17 |
| Iguana | Cardiff | 18 |
| Dock Worker | Rhiwbina | 17 |
Rhiwbina (h) vs Cardiff 2023 individual print scores. Maximum score 20. Last updated 4th May 2023
| Digital photograph title | Club | Score |
| --- | --- | --- |
| Captive | Cardiff | 18 |
| Alpine View | Rhiwbina | 16 |
| Double Act | Cardiff | 19 |
| Barmouth Bridge | Rhiwbina | 17 |
| Ent | Cardiff | 15 |
| Butterfly Macro | Rhiwbina | 18 |
| Humber Bridge | Cardiff | 15 |
| Fairytale Castle | Rhiwbina | 19 |
| The kingfisher and the newt | Cardiff | 20 |
| Jay Bird | Rhiwbina | 17 |
| The Dancer | Cardiff | 16 |
| Newport Reflections | Rhiwbina | 16 |
| 3 times 3 | Cardiff | 16 |
| One-light headshot | Rhiwbina | 20 |
| Washboard Man | Cardiff | 16 |
| Pink | Rhiwbina | 17 |
| The captain | Cardiff | 16 |
| Welsh Supporter | Rhiwbina | 14 |
| Painted Lady | Cardiff | 16 |
| World in a Droplet | Rhiwbina | 16 |
Rhiwbina (h) vs Cardiff 2023 individual digital photograph scores. Maximum score 20. Last updated 4th May 2023